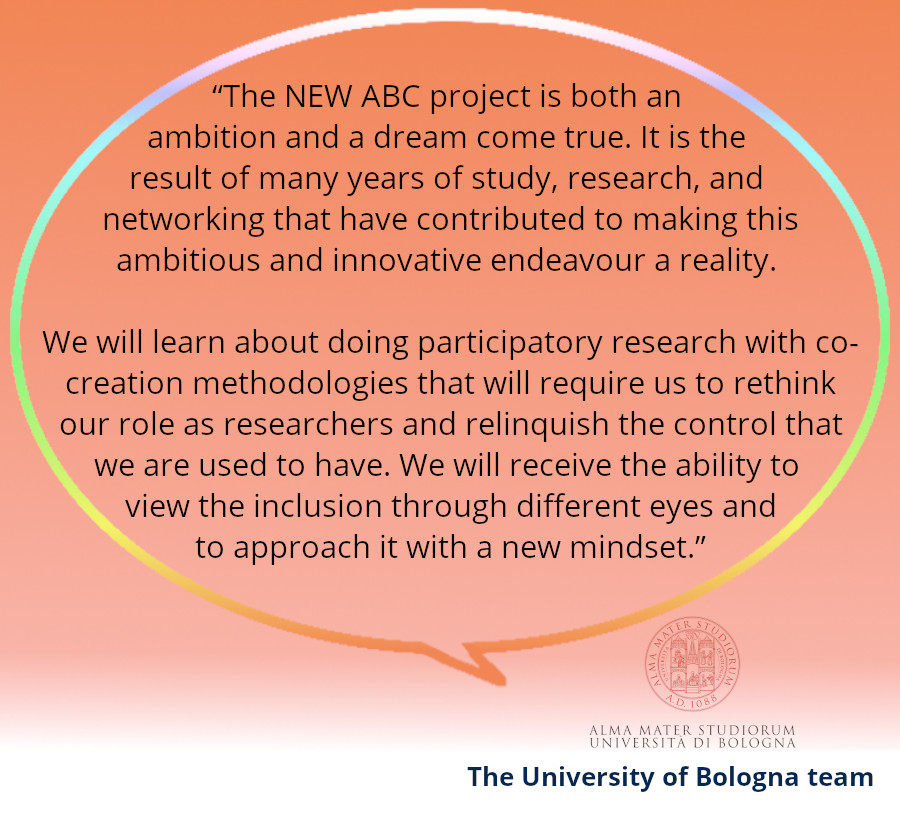 The Alma Mater Studiorum, the oldest university in the Western world, paves the way for innovation through an increasingly rich programme catalogue, cutting-edge research and a constant and increasingly broad international perspective. As a comprehensive research university, Alma Mater invests in the multidisciplinary cross-cultural approach and in the inseparable connection between research and teaching.
One of the most active universities leading and participating in European research and academic cooperation projects, Bologna has formed knowledge alliances with industry and public/private organizations. It is a hub of international networks. With regard to the capability of attracting funding for research and innovation, UNIBO is very active both at the National and European levels in all the research areas. In Horizon 2020, UNIBO is so far involved in 262 funded projects (69 as coordinator) with more than 105 ML Euros of funding.
Role in NEW ABC:
Project coordinator.
Leader of WP3 (stakeholders' voices) and WP8 (Project coordination and management)
Within WP4, implementation of the pilot School contest: My school. Children as policy-makers (with IC1) and Teacher training and family involvement in pluralistic approaches to language education (with the University of Turin).
Within WP5, re-test the pilots Empowering young translators and Self-Expression through Poetry.
Present in WP1, WP2 and WP7.
To implement the above tasks the UNIBO team draw on substantial expertise obtained on current and previous projects. This includes extensive research in Italy on child language brokering practices as well as L2 learning/teaching, as per following Short Profiles, Publications, and Previous projects.